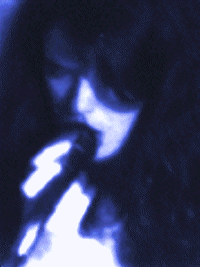 E-mail me at joski@saltwaterstudios.com
"Read my online DIARY ... I know it's strange... but I like it.
I put in something new every couple of days or as the spirit moves. Sometimes it's band news, sometimes it's personal shit. Sometimes it's train of thought babbeling.
I've actually heard that people read it! How odd!"
Yes, this is MY homepage! Which should be obvious to anyone who has spent any time here! I make no apologies for my extreme bias. It's MY band, I can say what I like! The REALLY oozy statements about the band are other people's quotes! I just wrote them down!
I have a new favorite quote...
"Is she okay?"
... this one was said at our show at the Press Club... Steve told me on the drive home... I LOVE that! It's SO FUNNY!
MORE LINKS!!!
Joanne Howard
An outrageous vocalist. Also plays a little guitar and bass in a pinch. Joanne is an artist (visual and graphic) and approaches life with all senses engaged. Joanne does all the art on Sajes' albums and also on these pages.
THESE ARE A FEW OF MY FAVORITE THINGS!
| | | |
| --- | --- | --- |
| I suggest you read everything you can find by Neil Gaiman, especially... | | He's a brilliant writer! He proves what I always knew comic books were capable of. ...and the art is fabulous! |